MI Metal Update 4.25.16
Upcoming Shows, New Releases and Other Stuff in Heavy Metal
4.26 Reverend Horton Heat, Unknown Hinson, Nashville Pussy  @The Pyramid Scheme [GR]
4.26 Buckethead @The Majestic [DET]
4.27 NEKROGOBLIKON & PSYCHOSTICK @The Machine Shop [FLNT]
4.27 Behemoth @Saint Andrew's Hall [DET]
4.28 THY ART IS MURDER @The Loft [LAN]
4.29 BoneHawk, Bison Machine, Old Black @Bell's Eccentric Cafe [KZOO]
4.29 31 Legions, Archimime, Echo of Silence, Otiose @Simons After Dark [ALN PK]
4.30 OTEP wsg: September Mourning, Through Fire & Doll Skin @The Music Factory [BC]
4.30 Martyr for Madison | Southpaw | Elan Vital @Pope's Pub [MUX]
4.30 Left Lane Cruiser @Unruly Brewing [MUX]
4.30 Concrete Angels, Eva Under Fire & The Creeping Chaos @Maidstone Theatre [YPSI]
4.30 Ashes from Above, Neptune is an Arsonist, Kill Tomorrow, The Revenant @Rocky's [GR]
5.1 Primal Fear, Luca Turilli's Rhapsod, Wulfhook, Miles Beyond @The Token Lounge [WTLD]
5.1 SKULLSHITTER, NECROT, MINUS 9, GRIMJOB @New Dodge Lounge [HMTRMK]
National Show Coming Fast
Thy Art Is Murder
Thursday 4.28
The Loft
Lansing MI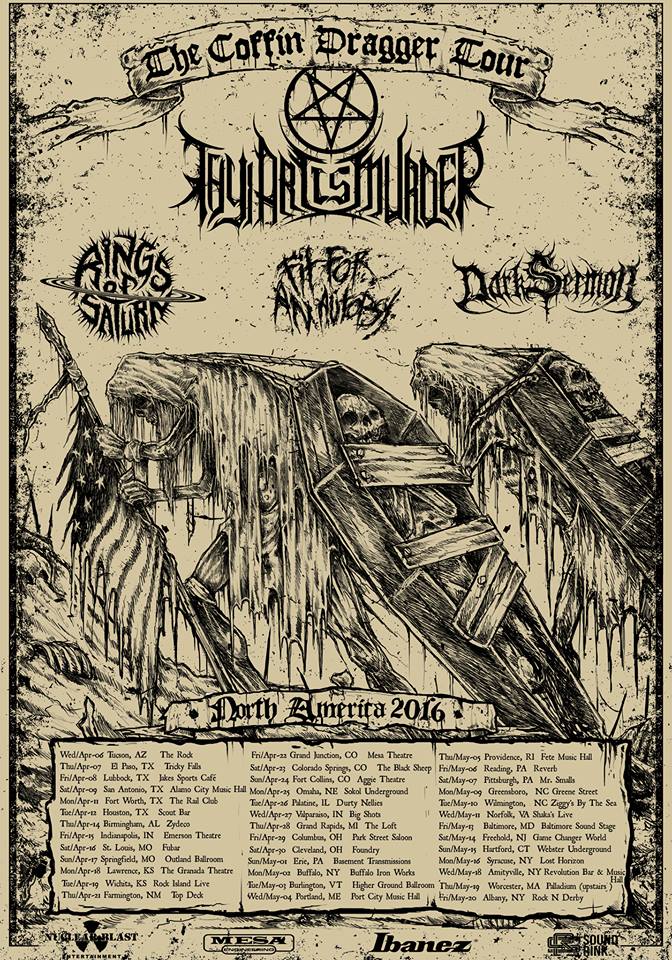 By now the news of the passing of Prince is well known. He was an icon that gave no fucks about what anyone thought of him or his music. He was everything metal stands for. He was also one hell of a guitar player. He was METAL! Good night sweet Prince. We will miss you.   
 "Prince was an immortal miniature unicorn who was supposed to keep spreading his musical brilliance and throwing eyelash-singing side-eyes until the end of eternity when we're all long gone. But well, all of the oxygen was sucked out of the planet when TMZ first reported that Prince Rogers Nelson is up in heaven making the angels faint as he sashays through the gates. Prince's rep confirmed this worst of worst news to The Associated Press. Prince was only 57." Via Dlisted.com

Kat Von D Everlasting Liquid Lipstick
"Vampira"
.8 ounces of dark Burgundy long lasting lip goodness. We've tried the Kat Von D makeup line and LOVE IT!
Boot Decals
Vinyl Boot Decals Stick to Almost Anything
Medim and Large Sizes
$9-$12 with Always FREE shipping
Share with People Who Need More Metal in Their Lives
\m/ \m/
MoshPitNation.com