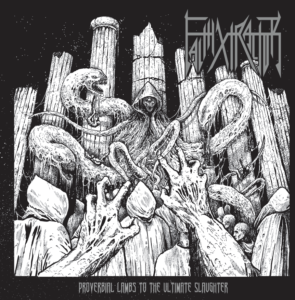 Band – Faithxtractor
Album – Proverbial Lambs to the Ultimate Slaughter
Country of Origin – USA
Genre – Death Metal
Release Date – July 17, 2018
Label – Hells Headbangers
Author – Hayduke X
A few Saturdays ago, I had the immense pleasure of witnessing a live performance by this mighty death metal power trio. I'll write more on that at some point, but today my focus is on the album. Proverbial Lambs to the Ultimate Slaughter, in addition to being a very long winded title, is an excellent death metal album with strong roots in the old school. The band has been active since 2005 and this release marks their third full length and sixth overall release.
Hailing from Cincinnati, Faithxtractor features Ash Thomas (guitars/vocals for Shed The Skin, among others) handling live drums and vocals, as well as some guitars and bass on the album. In addition, Zdenka Prado pummels the bass and Cody Knarr rips the six string. There's nothing too fancy in what they do – this is meat and potatoes death metal, with a bit of well placed guitar solo gravy – but it is harrowing in woodchipper-come-to-life-and-bent-on-vengeance- against-the-human-race kind of way.
Sometimes, the wheel doesn't need to be re-invented. Musically, there's nothing new under the sun anyway. Even more avante garde, so to speak, bands are just running one style through the lens of other styles. A scissors and paste collage of experiences, if you will. Sometimes that turns out pretty cool, but sometimes you want some familiar brutality. If the latter is your mood, it doesn't get much better than the musicianship of Faithxtractor.
Recommendation – Death metal fan? Put this in your collection.
Rating – 4/5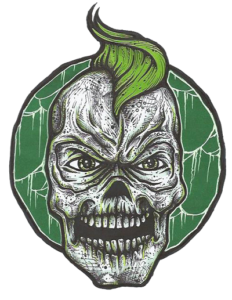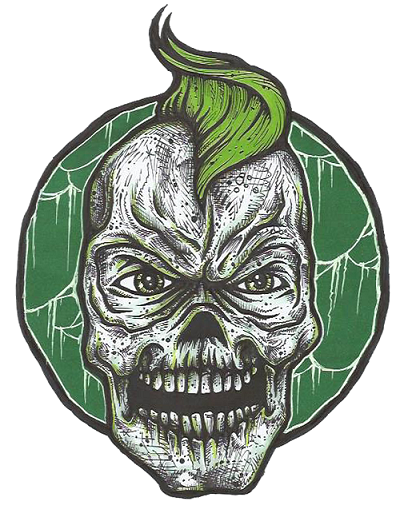 Biography:  Hayduke X has been writing for MoshPitNation since June of 2016. Prior to joining the MoshPitNation team, Hayduke published reviews on his own blog Rage and Frustration. In addition, he has DJ'ed an online metal radio show of the same name as his blog, written for TOmetal.com, done interviews for Metal Rules, and collaborated with The Art of B Productions to create video interviews with a wide variety of bands.